DEVIL MOUNTAIN CHRONICLES: Autumn Morn
Once upon a time when I lived in Old Town Albuquerque I was taking a morning stroll down the ancient streets, long hair blowing in the morning breeze, the trees ablaze with color. To my delight, a beautiful hippie girl dressed like a gypsy queen emerged from a candy store. She had just purchased some white chocolate and offered me a piece. It tasted so sweet, and I desired so much more…
Three months later, we were married in Roosevelt Park, on January 28, 1973.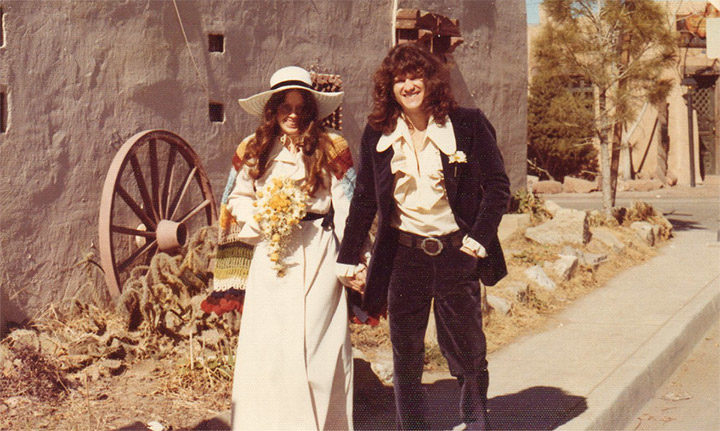 This poem was written years later.
One Autumn morn she appeared from the blue
And right then I knew she was sent from above,
A sensual angel in the name of love
Offering me white chocolate and smelling of vanilla,
A walking confectionary, a magic electuary,
A sugar-coated medicine woman
With a wicked smile and bells on her ankles
Offering me a taste of her body and soul
And the pain she was hiding in those green eyes,
Sad eyes behind rose colored glasses
But there would be pain, oh yes,
Like two-hundred twenty volts up my spine
And she tasted like wine and would smother me
With cotton candy kisses but never mother me
'Cause she had that aloofness that drives men mad
But I had to embrace her and she let me have my way –
And all was sublime that Autumn day
Back when I had the world by the balls
And possibilities were limitless then
But my sensibilities were nil so I'd pop another pill
And prayed that this creature would star in my feature
Based on the true life story of "us"
Laced with strife and the glory of love
For "us" had yet to be, my friend,
But I inhaled her essence and kept her in my heart
And now we look back on that Autumn morn
When we would start so many tears to flow,
So many years ago and I still smell vanilla,
Still taste her cotton candy kisses
'Cause now she's my Mrs. and I'm her man
And we love each other all we can
And we both remember that magical time
Back when our sacred love was born…
Everything seemed possible that Autumn morn!
I love you, Jayebird.