EDITORIAL: Shelter from the Storm, Part Three
Back in 1994, when Clarissa and I converted our 50-year-old garage into an office, we didn't skimp on insulation. We used double-pane glass in the windows, and a snug-fitting door. We'd already been through one winter in Pagosa, and we knew how cold it could get in the middle of winter.
When I woke up to write my editorial yesterday, I put a heavy pair of pants over my long johns, and a flannel shirt and a sweater on top of a long-sleeve t-shirt. I put on my socks, and a fleece beanie. And I was still cold.
Apparently, the temperature outside was 10 degrees F.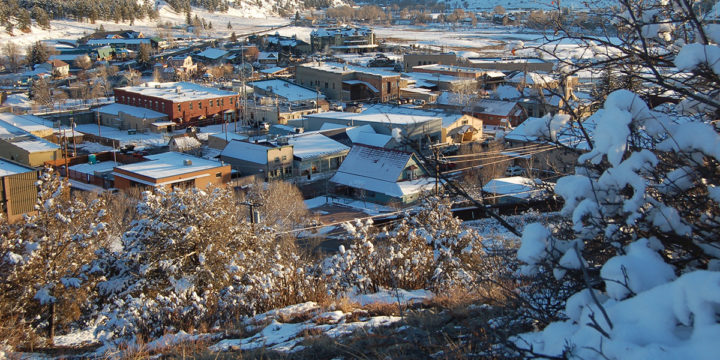 Reportedly, some of our neighbors here in Archuleta County are living in their cars this winter. Some are living in tents, or truck bed campers, or RVs. It's not an easy existence, when the temperature gets down to 10 degrees. In fact, it's a dangerous existence, with a risk of hypothermia.
I attended a Town Planning Commission meeting last night, where the four commissioners present were discussing Ordinance 878 — a slightly different version from the one presented to Town Council last week. Town Planning Director James Dickhoff introduced the proposed regulations, noting that they were aimed at providing impact fee waivers to developers who might be building affordable housing — defined in the ordinance without actually using the term "affordable."
At the beginning of the discussion, Commissioner Greg Giles expressed his concerns. Was Ordinance 878 really going to address the problem?
"I did review this [ordinance] and I understand where you're coming from, but these definitions seem pretty complicated. If I understand what we're trying to do here, we're giving an incentive to developers to come in and build affordable housing? …
"So a developer comes in an wants to build an eight-unit apartment. Two-bedroom units. Cookie-cutter. And he wants to rent them for $1,200 per unit. So it's really complicated if we are trying to base this on the income of the people renting…"
Many Colorado communities, including Pagosa Springs, have rental housing available where the tenants must qualify in terms of monthly income. Archuleta Housing Corporation has 52 units. Casa de los Arcos has 16 units. Lakeview Estates operates 80 units, and Hickory Ridge operates 41 units. Archuleta Housing for the Elderly has 12 units, and Socorro Senior Living has 19 units. Some of these projects offer rental assistance through the federal Section 8 or Section 515 programs.
Total income-qualified units in Archuleta County: about 220 dwelling units.
According to the new Archuleta County Housing Needs Study, recently adopted by both the Town and the County, we have about 1,700 rental units in Archuleta County. The same study notes that 49 percent of renters in the community are "cost burdened" and are paying more than 30 percent of their income for housing costs. A family that is cost burdened may not be able to afford nutritious foods, medical care, clothing, and utility bills.
This suggests that maybe 850 renter families are cost burdened in our community.
But the authors of the Housing Needs Study did not measure the number of people in the community who are living in their cars, or camper trucks, or in RVs. Nor does this number reflect the 30 percent of homeowner families who are "cost burdened." That number comes to another 1,300 households.
If we were to conservatively estimate 2 individuals per household in Archuleta County, we can calculate somewhere around 4,400 people are living in cost burdened households.
Not including the local employees camping in the middle of winter.
That would mean that more than 1-out-of-3 citizens are struggling with housing costs in Pagosa Springs. 220 existing units of affordable housing seems like a drop in the bucket, to me.
We are again listening to Mr. Giles at the January 23 Planning Commission meeting:
"These people who are going to qualify for housing? We're going to cap the rents, right? Of what they can charge? So we need to give them parameters."
No, actually, Ordinance 878 does not allow the Town to define rent levels or renter qualifications. All that Ordinance 878 would do is give a developer a waiver of about $3,200 — the current price of Town impact fees on one dwelling unit — if the developer promises to keep rents below a certain price for the next ten years.
To which we might ask:
Who are these developers, who will keep their rental units below market rate for ten years, in exchange for a one-time $3,200 subsidy? I haven't run across too many business people who would embrace that kind of contract.
But we have a bigger problem here than simply an impractical financial incentive.
Twenty years ago, we had a couple of active "affordable housing" organizations in Archuleta County: Habitat for Humanity, and Colorado Housing Inc. Both of these organizations were based upon the "sweat equity" model of home ownership. The future owner of the home was expected to help build the house, and in exchange, some of the financial costs were subsidized. This model produced dozens of homes in Archuleta County over a 10-year period.
Now that we've come to 2018 and find ourselves faced with a truly serious housing crisis, neither organization is actively building homes. Colorado Housing Inc. (CHI) went bankrupt several years ago. And according to the Habitat for Humanities website, their most recent home was built in 2015.
In the meantime, all of the homes built under this "sweat equity" model have since become market-rate homes. Which is to say, these homes were "affordable" when they were first constructed — ten years ago — but are no longer "affordable" if you want to purchase one of them in 2018. Ten years of affordability simply means we have exactly the same crisis happening ten year from now. But Ordinance 878 is built around just such a ten-year period.
My hat is off to the Town staff for composing Ordinance 878. It's one step, in the right direction. One step on a path leading up the face of Mount Everest, perhaps — but one step, nevertheless. And my hat is off to the Town Council, for asking the community to weigh in and offer comments about Ordinance 878.
But really, folks. How do we seriously address our 4,400 neighbors who are struggling to find affordable shelter from the storm?