EDITORIAL: Shelter from the Storm, Part Two
10.9.2.1. An exemption of one hundred percent (100%) of the impact fee may be granted by Town Council for units or any portion of the project meeting the definition of very low-income housing or low-income housing…
— From the proposed Town Ordinance 878, January 2018
So we have the question of impact fees before us, once again. Are they helping the community to thrive? Or are they a hindrance?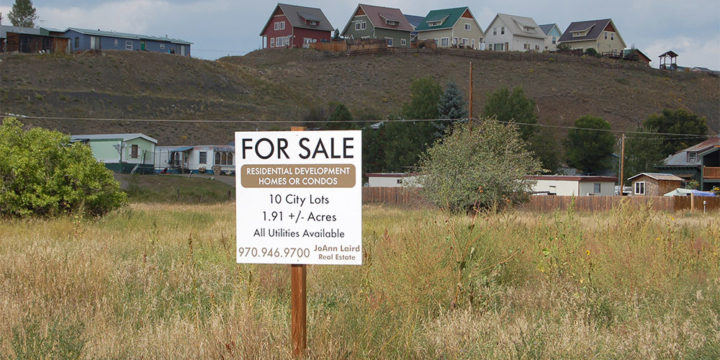 As noted in Part One, the Pagosa Springs Town Council decided at their January 18 regular meeting that Ordinance 878 needed more study. The proposed ordinance had set definitions for various "levels" of affordable housing that might benefit from a waiver of Town impact fees. The ordinance also suggested that building permit fees might be waived for affordable housing projects.
The ordinance did not suggest waiving impact fees for any kind of commercial development, where the impact fees are sometimes considerable. (The Walmart store, for example, paid about $500,000 in Town impact fees in 2014.) But Ordinance 878 would allow commercial construction to request a "deferral" of impact fees for up to three years. The fee would still have to be paid; the new rule would merely allow it to be paid in installments.
We will remind our readers that Archuleta County does not collect impact fees, on any type of development – commercial or residential.
According to Colorado law, impact fees may not be used to address "deferred maintenance" of roads or other infrastructure. Impact fees are allowed to be spent to address "new" infrastructure needs created by the new development.  If we look at the way the Town government has been using impact fees, however, we might conclude that Colorado law is not being followed exactly to the letter. (Read some commentary about that little issue, here.)
We discussed the problem of impact fees at some length, back in May of last year, in an editorial series titled with a question: "Open for Business?"  The article discusses a proposal from then-Town Manager Greg Schulte to establish a short-term moratorium on the collection of Town impact fees. The Council ultimately decided not to institute the moratorium, so the Town is still collecting impact fees on all types of development within the Town boundaries. The 2018 budget suggests an estimated $67,000 will be collected this year.
We're listening to Council member David Schanzenbaker at last week's meeting:
"Thanks to the staff for doing this. Especially getting the definitions on the table. We definitely need to keep moving forward.
"I'm wondering why the deferrals [for commercial development] are included in the same ordinance with the affordable housing waivers? I'd rather see those two issues addressed separately, because they are two separate issues. They both concern impact fees, but other than that, they don't have anything to do with each other."
Mr. Schanzenbaker has a good point. The community is seeing some "high end" housing going up out in the unincorporated county — where we have no impact fees — but very little new housing that is affordable to Pagosa's working class. Ordinance 878 was obviously written to try and address that shortage.
But the Town staff also proposed, in the ordinance, to address a lack of commercial development — something that hasn't been identified as a crisis here in Archuleta County. In fact, driving around town, one can notice vacant commercial buildings in various states of abandonment.  Why did the staff include commercial impact fee deferrals, when we don't see an obvious and pressing need for more business space?
That's what Council member Schanzenbaker wanted to know.
If we want to answer Mr. Schanzenbaker's question, we probably need to consider why Ordinance 878 appeared so suddenly before the Council — without any input from the Town Planning Commission, the County Planning Commission, the two government-sponsored affordable housing work groups, local business owners, the real estate industry, the construction industry, or from the community in general.
On January 2, BWD Construction made a presentation to the Town Council, concerning a proposed development on Hot Springs Boulevard. The proposal, as presented by Ryan Searle, included market-rate housing, 'workforce housing,' and a sizable commercial building.
Phase 1 includes 40 units of workforce housing, 19 townhomes, 5 single family homes and a 16,000 sq. ft. office building with 4,034 sq. ft. for a convention center on the 3rd floor, 4,700 sq. ft. of co-working space on the 2nd floor, and a 916 sq. ft. retail space on the 1st floor.
BWD didn't yet have a complete plan assembled… nor had they made an actual application to the Town Planning Department. But they had a clear idea about the taxpayer subsidies they would need to make this project fly.
From the January 2 presentation:
What we are asking for:
Waiver of impact fees on phase 1 entirely (approx. $250,000)
Waiver of building permit & design review fees on work force housing (approx. $36,000)
TOPS to finish Hot Springs Blvd with on street parking…
When asked how soon BWD planned to break ground on the project, Mr. Searle suggested an April 2018 timeline.
That would seemingly require a decision by the Town about waiving impact fees — not only on the proposed affordable housing component… but also on the market-rate housing… and on the commercial building. And we were not talking about merely "deferring" the fees. BWD wanted them waived completely.
Here's a bit of back-of-the-napkin math on that request, based on recent Council discussions. 40 units of workforce housing, under the Town's current fee schedule, would owe about $128,000 in impact fees. ($3200 per unit.) 24 market-rate dwellings would owe about $80,000. ($3300 per unit.) The commercial square footage presented by BWD is a bit unclear, but it sounds like they are estimating about $42,000 in commercial impact fees. A subsidy of "approx. $250,000."
Add in the cost for the Town to complete the (still unfinished) Hot Springs Boulevard — maybe $250,000? And the waiver of permit fees on the affordable housing — $36,000?
BWD is apparently looking for government subsidies and perks of over $500,000. And they want to break ground this spring.
I would suggest that Ordinance 878 was written to define some new fee policies for the Town — related to both housing and commercial projects — specifically so that BWD could work the numbers into their proposed plans.
The community has been invited to comment on Ordinance 878, which you can download here. Comments must be submitted prior to February 6…