ESSAY: Christmas, 1969
Santa Claus has the right idea: Visit people once a year.
‒ Victor Borge
Graduation was at hand and we all readied ourselves for the Christmas exodus. I was given a stripe, and proudly sewed it on my Dress Greens.
I had successfully completed Basic Training and felt that I had really accomplished something. Joining the Army might have seemed like a stupid idea, but if it's stupid and it works, it isn't stupid. I received my orders for Advanced Infantry Training at Fort Ord, California, and had booked a flight to Dallas. I would be home for Christmas.
The Christmas of 1969 was the happiest in recent memory. My family greeted me with love and affection, and my dad Spike was beaming with pride. Grandpa and Grandma Duncan had made the trip down from Pennsylvania and were pleased to see me in uniform. I imagined that I was Dearma's little Christian soldier actually marching off to war. Ross was also in his military school's dress uniform, and together we made an unlikely sight, posing as soldiers, both of us desperately trying to improve our lot in life. Bob had let his blond hair grow out and was resplendent, dressed in the height of hippie fashion. Of course, a haircut was a regular topic, but Bob held his ground firmly.
Spike and Marilyn were still striving for that unattainable image of Ozzie and Harriet. Though, at this point in time, it was almost believable.  We boys were not My Three Sons, but at least we were giving it a shot.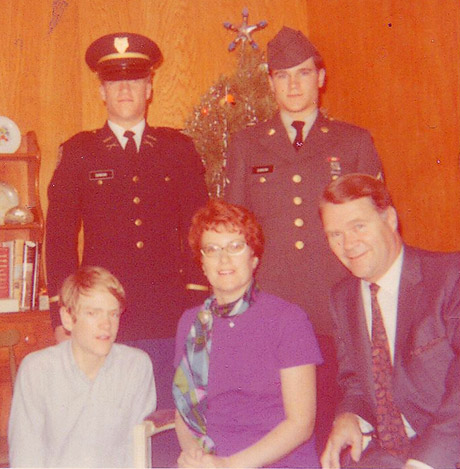 I kept away from the shady elements that were lurking behind every corner, and passed my time jogging, fraternizing with family, and enjoying this wonderful Yule time bliss. Spike had set up the old Lionel trains under a glorious tree, and the stockings were hung, and carols were sung (just like the old times). We all attended midnight service at North Minster Presbyterian Church where Mom and Dad showed great pride in their three sons.
The Christmas spirit and the extraordinary family bonding made me wax nostalgic. In my mind I traveled back to the Fifties when Christmases were magical and dreams came true – a time before the invention of the term 'dysfunctional family.' The spirit of Christmas would inebriate my father; every year he went completely ape-shit, right on schedule. Down in the basement, late at night, he would work secretly on the latest train layouts, and decorations. On Christmas Eve, we kids were ordered up to bed where together we'd fall asleep with sugarplums dancing in our heads. Our neighbors would join our parents in the living room, enjoying spiked eggnog, watching Spike set up the trains. The tree was erected over the train set-up and carefully decorated; and all the while, Mother would softly play the baby grand, her beautiful voice warbling "Hark the Herald Angels Sing." Every time I think back on those joyful holidays, her sweet voice echoes in my mind: "Glory to the newborn King!"
Early Christmas morning, we boys would awake and rouse our parents. Dad would reluctantly get up and drag himself downstairs, and turn on the tree lights and train set. We would run down, with mother in hot pursuit, and on entering the living room, we were astounded at the sight. Dad had magically transformed the room into an unbelievable North Pole fantasy land. Santa had come! I have never met anyone else who had ever experienced this tradition; one evening it was a normal living room, and the next morning it was a festooned parlor with stuffed stockings, brightly wrapped presents strewn about, and Bing Crosby belting out Christmas songs.
Earlier, on some of those lovely Christmas Eves in the Fifties, mother and I would sit at the frosty window, trying to find the Star of Bethlehem in those jingle bell skies, and she'd swear that she had just heard reindeer on the roof! Then she'd dial the number that connected us to the North Pole, and we would talk to Santa himself.
Great Uncle Don was a good Santa on the phone, but Spike had actually transformed himself into the jolly old elf. Besides spreading Christmas cheer to his extended family, and all around our little town, he was an active volunteer and performed many acts of kindness to complete strangers throughout the year. I remember him in Dallas, running up the alley after the garbage truck, with envelopes full of cash for the garbage men. My father was a good Christian man, and put his faith into practice, never forgetting the true meaning of the Holy Day: Peace on earth, good will toward men.
And later, in those times of insecurity and doubt, when we boys had forgotten that our father really loved us, we only had to think of Christmas time, when the "real" Santa Claus appeared. Because of my loving father, the warm, fuzzy days of Christmas past are the most cherished memories of my life – period!
And now I was about to begin another chapter. Boot camp had given me a great deal of confidence in myself, and I looked forward to the challenges that were ahead; but I would enter this new era with great trepidation.
Soon I would be way gone.
…Excerpted from "Way Gone" by DC Duncan