ESSAY: A Cold Awakening, Part Two
A few weeks later, on August 15 1991, we took possession of our new property in this mountain paradise. We immediately started fixing up the place with a coat of new paint, landscaping, reparations, and many other projects including an office for me in the third bedroom and a work area for Jaye in the second bedroom.
We would hike around the neighboring hills including Oak Brush North and Coyote Hill among others and enjoyed the magnificent views with the amazing sunsets. Looking up Martinez Valley to the north, one had a great panorama of Pagosa Peak and her sisters with Plumtaw Road snaking its way through the aspen forests below. And on moonlit nights Jaye and I held hands and watched the shooting stars sail across the heavens… wondering what our son was doing at that moment.
Our land butted up the the BLM (Bureau of Land Management) property where – once upon a time – the old Job Corps once resided. The BLM still had a large maintenance building down the hill and there was a cabin nearer to our house that was home to a husband and wife team of rangers in the warmer seasons.
I envisioned setting up a small RV Park so that hunters could take advantage of the elk on BLM land. We'd turn the trailer into an office with laundry room and rec room including snacks and a Coke machine. We would build a log home on one of the old baseball fields on down the property and live happily ever after in our dream house. Jaye nixed the idea of an RV Park full of "drunken" hunters, but certainly approved of the dream house. She wanted to run a dog boarding business complete with kennels and a pet graveyard.
Right. Barking mutts and a creepy pet cemetery. No thanks!
In the meantime I would commute to Santa Fe and continue playing in my bands and sleeping on my stupid cot or someone's feculent couch. I wasn't looking forward to the commute in the winter months, but this then was the plan. Jaye got a job at the old animal shelter at Stevens Lake and also served on the board of the Humane Society as Secretary. So far, so good…
Our new home had a deep well and a pump house with an elaborate filtration system designed by a mad scientist. We had tried the water before we purchased the property and knew that it tasted like iron, but it kinda reminded me of the water at my church camp when I was a kid in Pennsylvania. Once we moved in and did some laundry we realized that we had a real problem: the water had dyed the load of laundry completely orange. And when we took showers, we had to clean the shower stall after each use. Not to mention that the water brewed a particularly rancid pot of coffee. Now I knew why they had installed the intricate – but ineffective – water filtration system.
All the while, Ray and my new drinking buddies were giving me advice and helping me with irritating little problems that popped up every week. I insulated the over-sized pump house and installed a few bare light bulbs to provide heat when the temperature bottomed out. (I can't remember who gave me that brilliant piece of advice.)
By the end of September we had settled into our new "country" life. It was a soul-satisfying experience to awaken in this idyllic utopia, realizing that we owned eight acres of mountain paradise, and that God resided high above us on Plumtaw Road. But the temperatures were dropping and there was a chill in the air. Old Man Winter was coming – and he wasn't happy.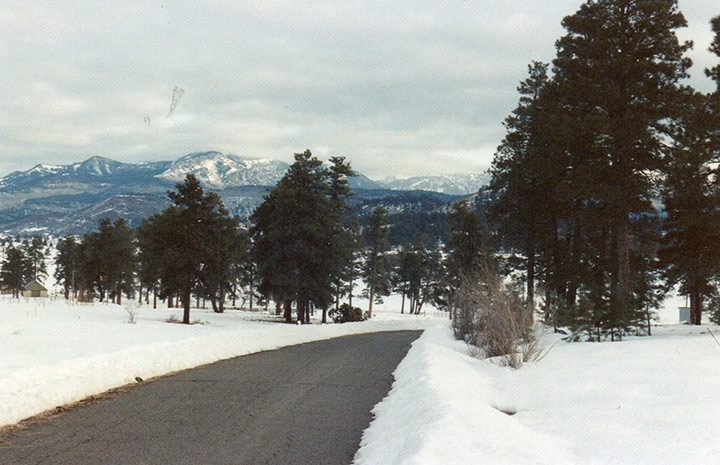 On 8 October 1991 – three weeks before Halloween – it started snowing. It snowed non-stop for three days and remained on the ground until the middle of May. That's six months of snow. Welcome to Pagosa Springs, Antarctica!
The sudden appearance of Old Man Winter was a shock to us, even though we knew he was coming. Once we got over the initial shock, we could appreciate the beauty of the snow. Cold-hearted winter had covered our whole world with thick, white icing as if it were a gigantic wedding cake. The skiers were ecstatic! But the rest of us chumps went about our business shoveling the wretched stuff while cussing under our breath.
I changed tires, installed a line heater and a CB, bought snow chains, adjusted my life insurance, scraped the windshields and windows, and basically learned 'on-the-job' how to drive in all kinds of dangerous winter conditions. Sometimes I would take off for Santa Fe in the early mornings through big snow storms. I'd have to wait for a snow plow to follow down south 84 to the border and then wait for the New Mexican snow plow. But on those dark horrifying nights coming back to Pagosa from some God-forbidden gig through a 'white out,' I'd have to pull over and wait it out… expecting they would find my skeleton in the spring thaw. Once on the road again I'd play tag with the elk and deer and occasionally lose control of the vehicle (for a long moment) over bridges covered in black ice. Once in a blue moon I'd get stuck in the slushy crap, usually trying to pull some other miserable soul out of a ditch.
I learned to slow down and concentrate and keep an eye out for wildlife and crazy "flatlanders" — especially those speeding in SUVs who had a dangerous false sense of security simply because they were driving their new, invincible 4-wheel drive Jeep that they had just picked up in Dallas. Your 4-wheel drive will not help you stop on a slick road. Going down steep icy hills I learned to downshift and squelch the urge to apply the brakes. Once the brakes lock up you are instantly out of control. There's no way to steer, fool!
On the other hand, the winter reveals a side of Mother Nature that is at once fearsome and beautiful. She bundles up in her white finery and looks every inch the Snow Queen. Her awesome beauty is undeniable; and her chilly breath is crisp and fragrant. The snow seems to purify every thing it touches. It can even make a junkyard seem picturesque.
One morning on the way to Santa Fe I was going through Chromo where I witnessed an incredible sight. Up ahead was a gigantic herd of elk crossing the highway. Made up of mainly cows and their young ones, the herd stretched as far as the eye could see, from the east to the misty west. They jumped the fence on the eastern side of the road and hurried across the asphalt and jumped the west fence to catch up with the others. High on a hill to the west I spotted a group of magnificent bull elks watching proudly over their charges. The whole scene was awesome. Some of the cows slipped and fell on the highway but regained their composure and got up and carried on. I was experiencing a microcosm of life unfold in front of me – a humbling experience.
After a while several cars were backed up behind me. I figured it was time to move on, as the herd kept coming, more and more. I started my Jimmy and slowly moved forward. Then a few jittery cows decided that they would head back over the fence to the east. Suddenly I had been given the right of way and proceeded on down the road to New Mexico.