DEVIL MOUNTAIN CHRONICLES: Childhood of a Prince, Part One
I was brought up in a fairy tale kingdom on the banks of the majestic Ohio River.
Historic and picturesque, Beaver, PA was a sleepy little town that resembled a set on the Hollywood back lot. You could almost imagine Jimmy Stewart stepping off a Victorian porch, extending his hand, hemming-and-hawing, and all the town people as bit players in some charming movie directed by Frank Capra. It was a magical place and time, and Beaver seemed to be the epitome of hometown America without a care in the world.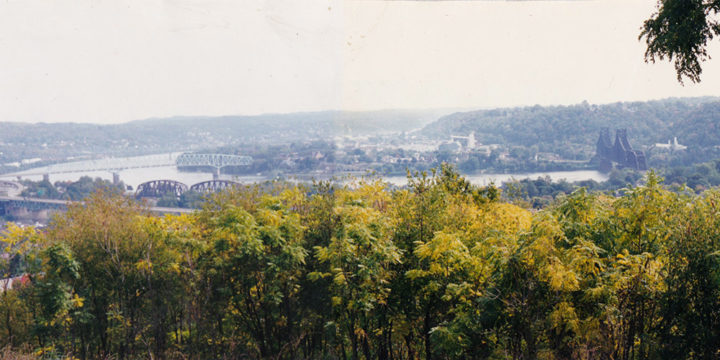 The gilded fifties in the beautiful Valley were idyllic and simple, but not all was copacetic. As little boys, my brothers and I climbed buckeye trees and came down covered in black soot from the mills, and sometimes snow would fall through polluted clouds resulting in "black snow." Back then, no one seemed to care that the St. Joseph Lead plant across the Ohio was belching out toxic smoke that blew over our town, or that the river smelled like chemicals and was lined with dead fish. And to think that, unbeknownst to our parents, we actually swam in that cesspool! But this was our magical realm and we were having too much fun to care.
One day in 1953, when I was two years old, I wandered out of our yard and ended up several blocks away. Luckily a family friend saw me walking down her sidewalk — heading west — and promptly called my mother to come and get me. After that, they actually strapped a dog harness on me and tied me to a tree, but I guess that didn't look quite right.
And then at Easter, someone came up with the bright idea of giving me some cute little baby chicks. I took them down to the basement, grabbed a ball peen hammer and promptly flattened them on the cement floor. I needed to be watched closely!
As a child, I spent my younger years in a fantasy world where I would close my eyes and dream my own reality. I had two imaginary friends: Georgie and Mine-Mine. Mother even set an extra place setting at the table, but just for one of them at a time.
I was a very contented little prince, full of hope and promise. But I had been born into a family that kept many dirty little secrets, some of which would be revealed much later.
Back in the fifties, kids were free to come and go as they pleased with no fear of the dangers that plague today's youth. We had full reign of the town and the woods. Being overprotected was unheard of, and bike helmets, seat-belts, pollution laws, did not exist. We had many friends in our realm, but our closest neighborhood chums were a part of what we called our gang. (This was definitely more like the Little Rascals than the Crips or the Bloods.) But if some other boys tore down one of our forts, it meant war – at least a black eye for somebody.
We had a beautiful park across the street and a swimming pool in bicycling range. Lincoln Elementary was just a short walk, and we would march to school yelling "Lincoln, stinkin', what have you been drinkin'? Whiskey, wine? Oh my, it's turpentine!" Third Avenue ‒ Downtown Beaver ‒ was only a stone's throw from our Dutch Colonial on 5th Street. Every afternoon a little train would rumble down the tracks in the middle of our street, all the while flattening our pennies on its way to the Westinghouse plant at the end of town.
My two younger brothers and I enjoyed swashbuckling adventures in the enchanted wooded hills above our home, and on the banks of the Ohio. Our curly, black mutt Jenny was our constant companion and if anyone so much as raised his voice to us Jenny would take a bite out of him. In fact, she bit all the jerks in the neighborhood at one time or another.
In the perpetual, overcast winters we rode our sleds down enormous hills, Jenny nipping at our boots; ice-skated on frozen lakes; and built snow forts. I'll never forget the time I was out in the front yard and looked up to notice an older boy standing catty-corner at 5th and Beaver Street. He must have been a good thirty yards away when he cocked his arm back and hurled a snowball toward me. I just stood there watching that tightly packed ball of ice zeroing in on my face. It smashed into my forehead with such force that it knocked me to the ground. I sat there in the snow, bawling, watching that evil coward run down the sidewalk laughing his ass off.
That was an early lesson for me: Sometimes people are rats!