EDITORIAL: Pagosa's Housing Crisis, According to the Experts, Part Six
I've always felt that the nine most terrifying words in the English language are: "I'm from the government, and I'm here to help."
— U.S. President Ronald Reagan, August 1986
We'll be wrapping up our analysis of the 2017 Archuleta County Housing Needs Study this morning. That $35,000 study was funded by the Town of Pagosa Springs and Archuleta County, at the urging of the Affordable Housing Task Force. Both the Town and County have designated our current housing crisis as one of the three key issues they wish to address jointly, and the funding of the Housing Needs Study was their first attempt at working together towards a solution.
The second draft of the study can be downloaded here. The final version is expected in a couple of weeks. (Originally, the study had been promised in April, but… well, governments and consultants work in mysterious ways.)
I realize that a few people in our community — or maybe many people — feel that local governments should not be using taxpayer revenues to promote housing options for homeless or low-income families, or for middle-class families.
We Americans have a somewhat dysfunctional, love-hate relationship with our governments. (Apparently, even U.S. Presidents sometimes fear the very government they oversee.) We expect our government agencies — and yes, there are a few of them around here — to protect our "health, safety and welfare" for the lowest possible cost and with the least possible interference into our daily lives.
One sphere of community life where this disturbed and muddled interdependence makes itself apparent is in the area of local land use regulations. We modern Americans generally embrace the idea of 'private property' — the belief that the owner of a piece of land should have the right to use that land to their own benefit, in any reasonable manner they might choose, without excessive government regulation.
But only so long as we, the neighbor next door, approve of their choices. To protect our rights, as the neighbors who have to look out our window at the house and yard next door, we expect a hefty dose of government control.
We expect our local governments to prevent our neighbor from building a very small house on his or her property, for example, and from using certain types of building materials that might clash with the neighborhood's established architectural style. We expect our government to prohibit apartment buildings, except in certain (undesirable?) neighborhoods.
Anyone who thinks that Americans live in "the Land of the Free" where housing and land use are concerned, has never become familiar with the 285-page Archuleta County Land Use Regulations. (Available as 12 separate PDF documents at the Archuleta County website.)
The first section of those County regulations, General Administration, begins like this:
Purpose:
These Regulations are for the purpose of protecting the health, safety and general welfare of present and future inhabitants of Archuleta County, including:
1.1.4.1 To promote coordinated and sound development and to encourage innovation in agricultural land preservation and residential development or renewal so that housing demands may be met by a greater variety of types and design of housing units.
1.1.4.2 To provide for higher quality in site and land planning, to conserve open space and to provide more efficient and attractive open space.
1.1.4.3 To encourage use of land for purposes that shall best meet present and future needs of the County, while preserving as much as possible of the rural/small town character.
Here we note that government even has a dysfunctional relationship with itself. The County professes that its intention is to encourage a greater variety of housing types and designs — while preserving "as much as possible" the rural and small town character.  Those two goals do not play well together.
I think we can all admit that a stated intention to "preserve the character" of a small town suggests that new construction will reflect what already exists, in terms of size, heights, set-backs, street design, and most importantly perhaps, no evidence of poverty.
A greater variety of housing types might allow poor people to live in our neighborhoods.  Pagosa might start to look different, and feel different.  Pagosa might begin to look more like it looked in 1920, with people living in very modest shacks.
I think most homeowners want to live in a pretty neighborhood, where everyone's income is above average, and every house is at least as attractive as our own… and no one works on their pickup truck in the front yard. We don't want a greater variety of housing types and designs to meet the needs of everyone in the community. Not in our own neighborhood, at least. We want more of what was built 20 years ago, or 40 years ago.
In some societies, poverty results from natural conditions, like drought, floods, hurricanes, unproductive soils, and so on. In most places in America, poverty is mainly the result of complex economic and social systems that funnel wealth into the pockets of those who are already well-off.
That's a simplistic explanation, but there's some truth to it.
Here in Pagosa Springs, according to the draft Housing Needs Study, the economic groups who are least able to afford housing are the same groups who are paying 50 percent or more of their household income on rent… if they can even find a place to rent. But if you ask the landlords of Archuleta County about our current housing market, many of them will probably admit that they are making more money than ever. A shortage of housing is an economic blessing to the landlord looking to increase his rental rates.
And according to this chart created by Economic and Planning Systems (EPS) for the 2017 Housing Needs Study, it looks like basically every landlord in the entire community has increased their rental rates since 2000. The typical rents in 2000 were around $600 a month. By 2015, the average rents were $1,200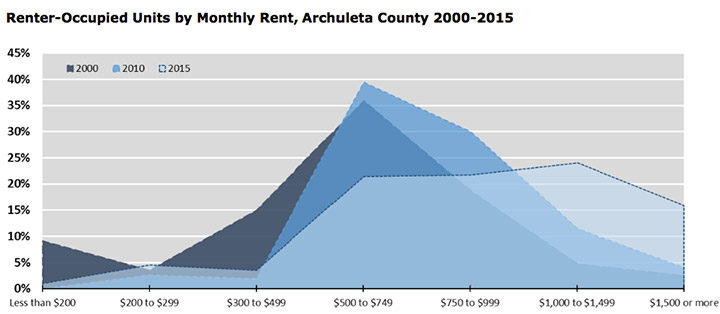 Almost no employed person in Archuleta County has seen their wages double since 2000, however. Too many are still working for $10 an hour.
Here are the simple facts. We have a shortage of housing for the working class, and that shortage is actually generating poverty. The types of dwellings built in Archuleta County since 1990 are no longer affordable to the citizens employed in our local businesses. Our governments can force people — via their land use regulations — to build only unaffordable housing that imitates what was built during the past 30 years. Our governments can continue to restrict housing and land uses, and prevent people from building "a greater variety of types and design of housing units."
Or our governments can step back, and consider the amount of poverty that will be generated here by current housing regulations, over the next decade.
People will build affordable housing in Pagosa Springs, if our local governments will allow them to. But our wealthier, well-sheltered residents who fear small houses and apartment complexes encroaching into their line of sight, will not like it… not one little bit.