EDITORIAL: Pagosa's Housing Crisis, According to the Experts, Part Four
We are living in a "Century of Cities." By the year 2050, 75 percent of America's population growth is expected to take place in cities. Over this same time period, the world's urban population is estimated to nearly double — the highest rate of urbanization in human history. In order to tackle the great challenges of our time, we must transform our cities into incubators for bold solutions.
— U.S. 20/20 Habitat III Report, October 2016
Well, I guess that leaves the other 25 percent of America's population growth to take place in the rural areas of the country, over the next 83 years of the current century.  Some people would like to see little ole Archuleta County get its share of that rural population growth.
This simple metric — more people — is often held up as the essential measure of a community's success, or failure.
"Economic vitality." That's the term some people use, when what they really mean is, simply, more population. If your town is not getting fatter and fatter, there's something seriously wrong.
At last night's Pagosa Springs Town Council meeting, Mayor Don Volger made a comment, the like of which I cannot recall hearing from a local government leader in my 13 years as a political reporter. The Council was getting their first brief look at the proposed 2018 Town budget, via a Powerpoint summary delivered by our new Town Manager, Andrea Phillips. (You can download the draft budget here.) Much of the preliminary budget design had been overseen by former Town Manager Greg Schulte. Ms. Phillips is stepping onto a moving train, so to speak.
We had arrived at the section of the budget called "Streets Department."
Ms. Phillips:
"So that's a rather large item, at $590,000. We're looking at a ten percent increase over [the 2017 budgeted amount.] We've got five full-time employees in that department, and I know one of the major priorities of the Council is to make sure we're setting aside funds for maintenance. We do have quite a bit of funding in our Capital Fund for just… ongoing street maintenance… patching… you know, all the supplies that go along with keeping up with our infrastructure… and our equipment. We have some equipment repairs in there as well…"
Ms. Phillips was interrupted by Mayor Volger:
"Sorry, I don't mean to interrupt… But before we move on. One of the things that I've talked to Council about, individually, and I think we need to address… I had talked to Greg about it… it would be nice if we came up with a policy, that out of our budget, we were going to spend a certain percentage on new capital improvement projects, and a certain percentage on maintaining current capital improvement projects. So we come up with a certain percentage that's reasonable… so we don't just focus in on new projects, but we also take care of the stuff we already have.
"We've talked about it for years… and we've never really done anything about it as far as policy. So that's something I would like to have discussed during our budget work sessions."
Seems like a simple idea: to keep your house in good repair, even as you add on the extra bedroom. But as the Mayor noted, the Town leaders have talked for years about the need to conscientiously maintain what we already own — but have never made that a firm policy.
The Town government does indeed oversee a large and complex mix of existing capital investments. Streets. Sidewalks. Parks. Buildings. Parking lots. Trails. Pressurized and non-pressurized sewer lines. A municipal geothermal heating system. Fiber optic cable. Bridges. Boulders in the river. Vehicles. Signs. Trash cans.
Some of this stuff is still in good shape. Some of it is falling apart and needs complete replacement. All of it requires maintenance of some kind. And the more stuff the Town adds to its inventory, the larger the annual maintenance budget will grow.
It's really a pretty simple idea. The bigger your house, the more it costs to keep it painted. The more it costs to fix the roof.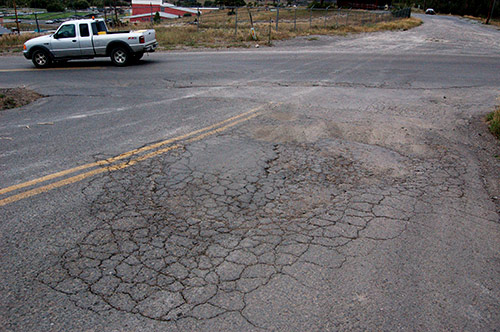 The Town currently has no stated policy in place, to insure that its existing infrastructure is maintained. We will see if the Mayor is able to get his Council to finally put one in place this year.
For at least the past 40 years, our local governments and business organizations here in Archuleta County have been actively encouraging "growth." If we were to look at the entire community as a functional system — all the commercial buildings, all the residential dwellings, all the schools and government amenities, all the telephone lines, the water pipes, and most of all, the people who live here — if we were to view this town holistically, we would see that it's not only the roof that needs regular maintenance.
The 'society' also needs maintenance. The people need to look after one another… or things are going to go to hell. You can't simply keep adding people to a community, without some type of maintenance policy.
According to the experts from Denver — Economic and Planning Systems — our housing system is unraveling. Some people are living in cars and tents. Some people are spending 50 percent of their income just to pay the rent. Here, in a reasonably wealthy Colorado community, a key segment of our "social infrastructure" cannot find affordable housing.
The population of Archuleta County was about 2,700 in 1970. Today, it's about 5 times that number. We cannot doubt that certain things about the community have become more convenient, more pleasant, or more just satisfying.  We cannot doubt that many attractive houses have been built, a significant number of which sit vacant for most of the year.
Probably 75 percent of our residents live in comfortable, affordable dwellings. But the situation is not getting better for the remaining 25 percent of our neighbors. The situation is getting worse.
Time for a bold 'human maintenance' policy? Finally?