EDITORIAL: Stir-fry Government, Part Five
Over time, the U.S. economy has become more dependent on debt to fuel economic growth. American households, in particular, have become dependent on debt to maintain their standard of living in the face of stagnant wages.
— America's Debt Problem: How Private Debt is Holding Back Growth and Hurting the Middle Class, by Joshua Freedman & Sherle Schwenninger
I'm not sure why the U.S. Census Bureau has been tasked with tracking our nation's trade balance with dozens of foreign countries. It had always been my impression that the Census Bureau's primary job was to count the number of people in the various Congressional districts every ten years, to make sure the seats in the House of Representatives were properly allocated, according to Article One of the U.S. Constitution. So I was taken by surprise, yesterday, when I learned that the Census Bureau also maintains a huge database of business statistics about international trade, the construction industry, manufacturing, retail trade, service industries, the wholesale sector — and one of the biggest of all industries: government.
One of the statistics that may have a connection to this editorial series —about 'The Chopsticks Theory of Government Spending' — concerns our foreign trade balance with China, the original home of chopsticks and stir-fry.
You might say that the economic relationship between the U.S. and China has undergone a change since 1985 — a rather significant change, in fact. According to this Census Bureau webpage, the U.S. trade in goods has favored the Chinese economy since at least 1985, the earliest date I could find on the website. In 1985, the U.S. imported slightly more goods from China — about $3.86 billions worth — than we sold to them — about $3.85 billions worth. That left our nation with a trade deficit of about $6 million. Purely in terms of goods bought and sold, we were slightly in debt to China, in 1985.
From that point, our trade deficit increased pretty much every passing year. By 1995, our trade deficit with China, for one single year, totaled $33.8 billion. Not 'million.' 'Billion.'
Last year, 2016, our annual trade deficit with China was $347 billion — ten times what it was in 1995. That's about half of the total U.S. trade deficit for the year 2016.  Purely in terms of goods sold, we are maintaining a negative trade balance with many countries around the globe who appear, on the surface, to have less vibrant economies than the U.S.  But maybe we are not seeing the true picture?
At any rate, one thing is obvious. We are buying four times as much from China as we are selling to them.
I believe this imbalance reflects an overall tendency we Americans exhibit in terms of our personal finances. According to a report published by the New America Foundation, the growth of household debt in America closely tracked the growth of the Gross Domestic Product (GDP) from the end of World War II through the mid-1970s.  But starting in the late 1970s, the nation's debt burden decoupled from the GDP and debt grew at a much faster rate than overall economic growth.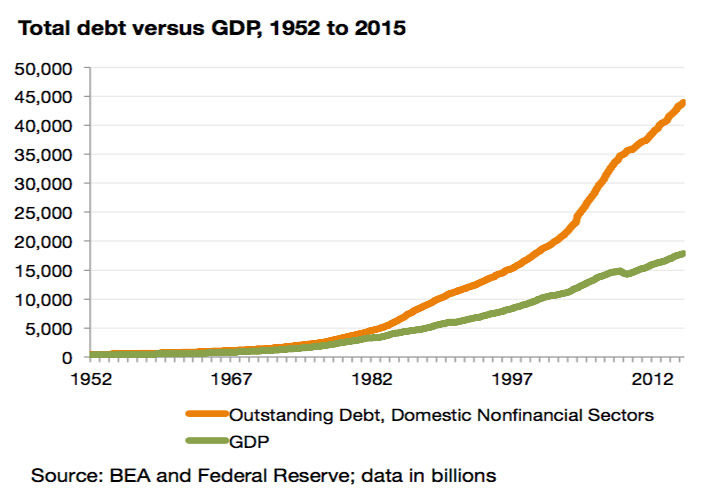 Most of the debt shown in the above graph is household debt and business debt — not government debt.  Please note that the "50,000" number at the top of the scale represents "$50,000 billion."  That's $50 trillion.
The 2015 New America Foundation report (which you can download here)suggests that — beginning in the early 1980s — households, students, and small businesses have gone deeply into debt here in the U.S. to try and maintain a certain "standard of living" in the face of stagnant wages. As the housing bubble began to inflate in the late 1990s, private debt increased even more dramatically as families and small businesses borrowed against their home values. Then the Great Recession hit, and household debt levels began to drop — but the federal government stepped in to keep the total U.S. debt growing.
According to a 2016 article in Bloomberg, U.S. debt per capita has grown from about $45,000 per person in 2005 to nearly $60,000 in 2015. Per capita, of course, includes children.  Meaning that each family of four represents almost $240,000 worth of debt.
When we consider the question of government spending — and government debt — here in Archuleta County, we've been looking recently at a couple of intriguing proposals.
The Archuleta Board of County Commissioners and a handful of supporters have been focused on a plan to borrow between $24 million and $33 million to build a County Sheriff's administration building and jail more than twice the size occupied by the Sheriff in 2015, prior to the roof leak at the jail.
The, last week, we heard a proposal, from Pagosa Springs Town Manager Greg Schulte and consulting architect Brad Ash, to build a 32,000-square-foot Town Shop facility, to replace the existing Town Shop measuring 12,000 square feet. The amount of debt might be as much as $9 million, not including interest payments.
These kinds of expansion proposals — to replace aging facilities with new buildings more than twice the size — seem to be fairly typical among rural Colorado governments nowadays. Alamosa County is just beginning work on a $26 million "justice center" that is three times as large than its existing facilities. Montezuma County is just completing a new courthouse that is twice the size of its previous judicial square footage.
Whether the rural roads in these two counties are in as poor a condition as we see here in Archuleta County, I cannot say.
But the tendency to amass millions of dollars of debt to build massive new government facilities — while allowing local roads to deteriorate — might be merely a reflection of the American tendency to go deeply into debt to purchase really big homes. From the New America Foundation report quoted above:
Household Debt has not contributed to long-term productivity
Much of the increase in household debt went to buy overvalued and over-sized homes, leading to more than 25% of homes being underwater in 2010… Overvalued homes were also used to take out new lines of credit, creating temporary financial support for many households but not for building a better future economy.
Households also began to buy larger homes than they needed. This trend has continued in the wealth-driven recovery. Average square footage of new single-family homes has grown steadily from 2,341 in the first quarter of 2009 to 2,736 today.
We should probably clarify that last sentence. The reason the average size of a home has grown so dramatically since 2009 is primarily because, now, only relatively wealthy people can afford a new home in America.
So then… who can afford big government?