EDITORIAL: Get Out of Jail, Free… Part Three
The amount local jurisdictions spend building and operating jails is skyrocketing. The total expenditure nationally for local corrections increased from $3.01 billion to $18.7 billion — about 520 percent — between 1982 and 2003…
— Jail Standards and Inspection Programs, written by Mark D. Martin and published by the U.S. Department of Justice, April 2007.
Skyrocketing costs are a serious concern, to some of us.  To others, it's the very source of their increasing wealth.
To still others, it's simply another taxpayer obligation, and something we have little control over.
Last September, when former County Commissioner Clifford Lucero and current County Commissioner Steve Wadley approved a tentative plan to build a new "Justice Center" — a County courthouse, Sheriff's offices and County jail — on Hot Springs Boulevard, they were well aware that the plan they were embracing had been estimated, by their consultants, to cost perhaps $8 million more than any of the other options they'd been shown.
We will note here that Commissioner Michael Whiting voted against this $28 million plan — arguing that Colorado state law limits Archuleta County to a total debt burden of less than $10 million. Additionally — Mr. Whiting reminded us — that debt burden must be approved by the county voters in a November election, and he felt pretty darn sure the voters weren't about to approve a $28 million plan for jail cells and new courtrooms, even if state law allowed such a thing…
Meanwhile, we have the little problem of an abandoned County jail in the heart of downtown Pagosa, and the resulting expense of transporting inmates to the La Plata County jail in Durango, 60 miles each way.  For the past two years.
Here, we're listening to Archuleta County Sheriff Rich Valdez summarize the current situation, at the May 2 Board of County Commissioners' work session:
"We just wanted to give you an update, and let you know where we stand on our budget. Just the transport costs and the things that are happening in La Plata.
"Looks like, just in the last three months, we've had about 161 arrests, which led to 122 transports [round trips to Durango.]"
County Administrator Bentley Henderson:
"That's normally a solo trip, for the bad guy?"
Sheriff Valdez:
"Could be one or two [bad guys]. Just depends.
"So let me step back a bit. When we did that assessment of the jail — when George came in and did our 30-day assessment — we realized that there are some challenges that we have, some space needs and requirements that we have in that facility, keeping people long-term. With that specific square footage.
"We can't be housing that many inmates, for long periods of time. So if they are there for an extended period, we are getting them over to La Plata County."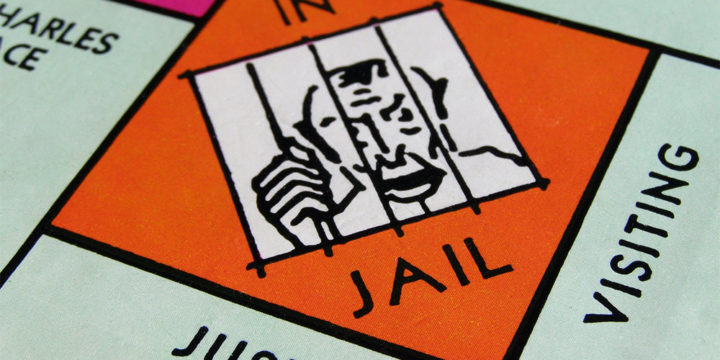 A bit of explanation. Archuleta County has been shuttling inmates to Durango ever since the April 2015 roof leak in our existing jail facility. The BOCC could have immediately started remodeling the existing jail facility to bring it up to 'state-of-the-art' standards — had they been so inclined — for an estimated cost of about $2 million (as estimated by the County's architect consultant, Bob Johnson.)
But for whatever reason, two members of the BOCC decided that it would be preferable to locate a new jail within a new 'Justice Center' facility, at a cost of up to $28 million, rather than remodel our existing jail at a cost of maybe $2 million.
As we can easily imagine, the strain of transporting 'bad guys' to and from Durango quickly got old. And expensive. (Can you spell, 'Overtime Pay'?)
In late 2015, Sheriff Valdez obtained funding from the BOCC to construct "temporary holding cells" in an area of the courthouse that hadn't been significantly affected by the April 2015 roof leak. These holding cells were intended to cut back on the number of Sheriff's deputy trips to Durango, by allowing an inmate to remain in Pagosa for a short period of time — in between court hearings, for example.
Apparently, Sheriff Valdez and his staff have now determined, more than a year later, that the "temporary holding cells" were not properly designed for "keeping people long-term."
I will admit to some confusion, at this point. Why would anyone be kept "long-term" in a "holding cell?" Those two terms seem, to me, mutually exclusive.
This conversation sparked my interest in exactly what type of facility Archuleta County believes is appropriate, if they are going to lock someone up "for long periods of time."
In 2007, the U.S. Department of Justice published a 76-page summary called 'Jail Standards and Inspection Programs.' You can download that document here.
Here's a short quote from that report:
Jail standards in some form have been adopted in approximately 32 states. Jails in states with proactive standards and inspection programs have generally experienced reduced liability exposure, improved conditions, greater professionalism, and greater consistency in operations.
Jails in the remaining states operate without the benefits of standards or the oversight and support that a state inspection program can provide. Officials in several of these states have attempted with little or no success to adopt statewide jail standards and establish viable inspection programs..
The purpose of this guide is to provide information that can assist states and state jail- related organizations to successfully develop and implement jail standards and inspection programs. It is intended for sheriffs, jail administrators, funding authorities, state legislators, local and state criminal justice administrators, executive branch officials, county counsels, state attorneys general, and other policymakers who have a stake in the safe, efficient, and constitutional operation of local jails.
It would appear, from this 2007 report, that the state of Colorado is one of the 18 states that has not yet adopted official jail standards and the accompanying inspection programs. A cursory review of the Colorado Revised Statutes brought up what might be the state's essential standards for keeping people locked up — long-term or short:
16-3-401. Treatment while in custody
(1) No unlawful means of any kind shall be used to obtain a statement, admission, or confession from any person in custody.
(2) Persons arrested or in custody shall be treated humanely and provided with adequate food, shelter, and, if required, medical treatment. Anyone receiving medical treatment while held in custody may be assessed a medical treatment charge as provided in section 17-26-104.5, C.R.S.
That's it.  Short and sweet.  We might also note this Colorado law:
17-26-126. Commissioners to examine jail
It is the duty of the board of county commissioners, as often as they deem necessary, but at least once annually, to make personal examination of the jail of its county, its sufficiency, and the management thereof and to correct all irregularities and improprieties therein found.
So we might ask our commissioners. What does it mean, exactly, to treat an arrested person "humanely"?  And how much can we afford to spend, doing that?
Read Part Four…