EDITORIAL: The Sales Tax Reckoning, 2017
We were listening to Town Manager Greg Schulte, addressing the Town Council at their March 23 regular meeting, as part of a series of staff reports.
"So, as you already know — as it was reported in the [Pagosa Springs SUN] last week — the sales tax collections for January 2017 was down, compared to January 2016… down 4.4 percent. That's the first decrease we've seen in quite a while."
Indeed, SUN staff writer Marshall Dunham had posted an article a week earlier, in the weekly newspaper's March 16 issue, which began like this:
January sales tax 4.4 percent behind last year
Sales tax collections in Archuleta County for January 2017 fell 4.4 percent compared to January of last year.
The total sales tax collection in January for Archuleta County was $602,618.09, according to a report issued on March 11 by Archuleta County Finance Director Larry Walton. The town and county each received $301,309.04.
Walton's report explains that this past January's revenue was $27,824, or 4.4 percent, lower than January of 2016.
Town Manager Greg Schulte:
"So, in a certain sense it's… especially when taken in the context of Lodgers Tax, which was up in January… and as [Tourism director Jennie Green] will tell you, Lodgers Tax was up by double digits… it's sort of counterintuitive that we would have Lodgers Tax up significantly… and then sales tax down."
I'm not sure what intellectual weight, exactly, Town Council and Town staff give to these monthly reports about various tax collections. For one thing, Mr. Schulte had predicted — during the construction of the Town's 2017 budget — that sales taxes would remain basically 'flat' during 2017 when compared to 2016, so this slight decrease in January fits the playbook nicely for the coming fiscal year.
And for another thing, the Town General Fund has about $1.2 million sitting in a savings account with no specific expenditures attached to that amount, so maybe a decrease of $28,000 is probably nothing to get overly concerned about?  Even if it might be roughly equivalent to the base salary of one of the new employees at Town Hall. (And we have, indeed, seen a few new Town employees hired, over the past couple of years.)
But a couple of things come to mind, as we consider Mr. Schulte's comments about the apparent discrepancy between This Tax and That Tax.
The Town of Pagosa Springs splits the local sales tax, 50/50, with the Archuleta County government, according to a voter-approved agreement. The Town has predicted, in their annual budget, that their portion of the 2017 sales tax will be $4,705,994. The County has predicted, in their 2017 budget, that their half of the sales tax will be $4,640,000 — about $66,000 less than the Town's prediction. No one has a crystal ball, and most likely neither assumption will be 100 percent accurate, in terms of the actual annual amount.
But month-over-month comparisons, like the one reported in the SUN, are notoriously misleading. For one thing, a late payment by one large retail operation can easily throw the monthly total out of line with the previous month… or with the previous year.
What truly matters, in terms of government revenues and budgets, is the annual total.
Another concept worthy of consideration is Mr. Schulte's implication that Lodgers Tax — paid by tourists staying in short-term lodging — should align with sales tax. Many people assume that tourists pay a large portion of the sales tax collected in Archuleta County; some government officials have even suggested that tourists pay MOST of the sales tax.
Let's consider that idea for a moment.
Here is a chart of sales tax collections included in the County's Fourth Quarter Financial Report for 2016. The Finance Department has made it easy for us to view, in a graphic manner, the monthly sales tax collections over the past three years. (The graph includes 2016 as both the budgeted amounts and the actual amounts.)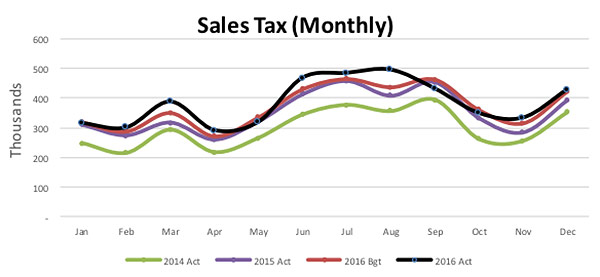 As we can see, the amount of sales tax collected each month produces a graph that looks somewhat like a mild-mannered roller coaster, climbing in March (when the Spring-Breakers show up for skiing at Wolf Creek Ski Area) and then dipping to its low point in April (during Mud Season.) The summer tourist season begins in June and rolls through September, and then we see a slight rise in December, when Christmas shopping takes off, along with the holiday season at Wolf Creek.
If Pagosa Springs had no tourism economy whatsoever, we would probably expect to see a fairly level line running straight across this chart, with a slight increase in December during the Christmas shopping season. But obviously, we have a tourism economy.
We can probably safely assume that almost no tourists are visiting during April. (Why would anyone visit Pagosa during Mud Season?) But the County sales tax collections in 2016 nevertheless totaled around $300,000. So I will assume that $300,000 is the approximate amount that our full-time residents pay in sales tax during the worst economic month of the year, when business is at its low point. That's not 100 percent accurate, but it's a reasonable beginning assumption.
Assuming, then, that local business owners and employees spend slightly more during the months when they actually have some money in their pockets, I'm going to pick $320,000 as the average amount of County sales tax paid monthly by our local, full-time residents during 2016.
Times 12 months, that equals $3.84 million.
During the 2016 fiscal year, the County expected to collect a total of about $4.64 million in sales tax revenue.
If these assumptions are reasonable, then only about 17 percent of the County sales tax is contributed by tourists, and the remaining 83 percent is paid by local residents. The tourist contributions come mainly during six particular months of the year: March, June, July, August, September and December.  We might, therefore, understand that, during the month of January, we should expect almost no correlation between "Lodgers Tax collections" and "sales tax collections" … because tourist contributions are a relatively insignificant part of the community's overall economic picture during January.
In other words, during January, we pay for our own government.
One final question. If local residents paid $3.84 million in sales tax to the County government during 2016, how much did local residents pay in County property taxes? According to recent reports from Region 9 Economic Development District, it appears that about 60 percent of the properties in Archuleta County are owned by people with addresses in other communities — that is to say, by people who do not live here full-time. The County's property tax collection for 2016 was about $5.58 million. Full-time locals would have paid only about 40 percent of that amount: $2.23 million.