EDITORIAL: Small is Beautiful, Part Two
"A small house can feel and function large when there is ample light and adequate storage space. Nine-foot and higher ceilings with large windows and skylights fill the rooms with light, creating a much larger perceived sense of space…"
— From the Ross Chapin Architects website
I had the pleasure of sitting down with Town Planning Manager James Dickhoff on Friday, following the Thursday night community meeting concerning Ordinance 853. That ordinance will — if approved — allow smaller minimum lot sizes within the Town boundaries. The ordinance will also increase the allowed density within the R-18 zoning districts, converting it to R-22 and permitting up to four dwelling units on a typical 7,500 square foot downtown parcel.
Perhaps a four-plex?
Or four small, cozy houses?
Mr. Dickhoff asked me my feelings about the public presentation, the night before, and I told him it was very well conducted; everyone had been allowed to say their piece, and everyone had been respectful of other opinions. My sense was, that everyone realized we have a housing crisis going on, and we will either have to rethink the way people live, or watch Pagosa become economically unsustainable.
Some worries about Ordinance 853 were shared, but were generally easy to allay.
There was a time, in America, when people enjoyed living together in small houses — or maybe they didn't know any better. According to the U.S. Census from 1890 — one year before the Town of Pagosa Springs had its original charter approved by local voters — 50 percent of American homes housed five or more persons. Only 11 percent of households contained either one or two members.
Today, the numbers are flipped on their heads. 60 percent of households consist of one or two persons. 9 percent include five or more persons.
Only one percent include seven or more people.
The average house size makes an interesting contrast to those numbers. In 1890, the typical family (four or five people) shared 800 square feet of dwelling. As of 2014, the average newly constructed American home measured 2,600 square feet — more than three times as large — while containing half as many family members: 2.5, on average.
To live as we do today, the average American apparently needs six times as much the dwelling space than they needed in 1890.
Which is to say:
Six times the amount of heating fuel.
Six times the amount of maintenance expense.
And infinitely more in electrical costs. (Average annual electrical useage in Pagosa Springs in 1890 was zero kWh)
Let's think about this, for a moment. Approximately 2 out of 3 American homes now accommodate only one or two persons. But the average new home is 2,600 square feet.
What's going on here?
One of the participants in the Thursday evening 'Ordinance 853' meeting, responded to an audience complaint. The complaint had been that allowing smaller lot sizes and smaller homes will ultimately cause a big problem: more people moving here.
"As the community grows, the community has more need for services," the woman explained. "And if you have no place for the service providers to live, locally, it's not good for the community as a whole."
Planning Manager James Dickhoff:
"Yes, we will be crippling our community [if we have no affordable housing] because we won't have the workforce to service our visitors. And realistically, we are a tourist economy. We need to rely on our workers, to provide reliable service."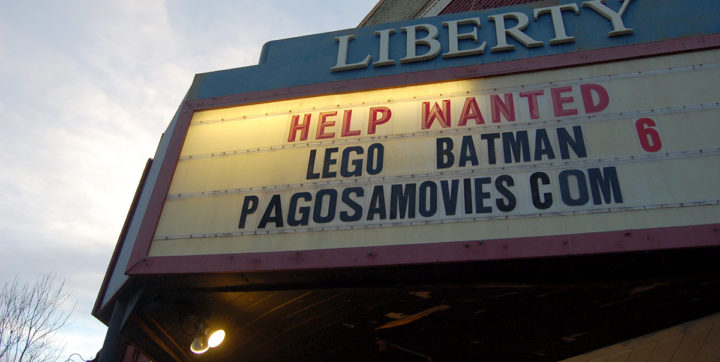 People in Archuleta County who already own a home, and who have steady jobs or a retirement income, may tend to think of affordable housing in negative terms. A dwelling that suits a working class individual will probably be smaller than 2,600 square feet. It may not have a spectacular view, or enough property to accommodate pet horses.
It might, in fact, be fairly small, and cheaply built.
"How will it affect my property values, if a small, cheaply built house appears next door?" That's a common question.
A less common question is, "How will it affect my property values if most of the businesses in Pagosa Springs cannot find reliable employees?"
Even less common, is the question, "Can small homes be beautiful? In fact, can a whole neighborhood of small homes be beautiful?"
Architect Ross Chapin began exploring that idea in the mid-1990s, when the community of Langley, Washington decided to rethink the idea of smaller homes and less suburban sprawl. The community had created a new section in their land use code, to allow for "Cottage Housing Developments." The concept involved group of small single-family homes — cottages — built on very small lots, and sharing central open space and a screened parking lot.
Architect Ross Chapin designed Langley's first "Cottage Housing" project, the Third Street Cottages, utilizing numerous design concepts to help create a sense of 'community.'
As you enter the little community through 'implied' gates, you find yourself in the semi-public Commons. This is a shared garden edged with a perennial border and a low split-cedar fence. A swinging gate opens into each private yard, and a walk leads to steps, the front porch and front door. The porch railing is at a height just right for 'perching' and is adorned with flower boxes to further define (and express) a personal boundary. The homes measure about 800 square feet, including the loft.
The design intentionally placed parking away from the cottages and screened from the street, having residents walk through the Commons to their front doors — creating an opportunity to smell the flowers, or talk with a neighbor, in the flow of daily life.
From the website:
A small house can feel and function large when there is ample light and adequate storage space. Nine-foot and higher ceilings with large windows and skylights fill the rooms with light, creating a much larger perceived sense of space. There is ample storage with walk-in closets, built-in shelves and an attic. We designed in nooks, built-in eating alcoves, and deep sills. Living, dining, kitchen, bedroom and bath are all on the main level and there is a spacious full-height loft accessed by a ship's ladder…
The builders used re-claimed whitewashed spruce paneling, brightly painted Dutch doors, vinyl windows with traditional white-painted trim, plywood & batten ceilings, stained Medite flooring… and no drywall.
The new homeowners were active singles and couples between the ages of 40 and 65.  Nearly all owned only one automobile. The project sold out quickly and drew attention from the national media… received numerous awards and recognition from peers… and inspired planners, developers and architects to advance the concept.
Proving that — if you do things right — Small can indeed be Beautiful.
Would this concept include Small Government?