VIDEO: Old Adobe Building Destroyed by Fire on Saturday
The County was saddened to hear of the fire that destroyed the Bear Creek and the Adobe Building in downtown Pagosa Springs. We reach out with our hearts and our hands to console and help the many people and businesses displaced by this tragedy.
— BOCC Chair Michael Whiting, October 23, 2016
I was one of the dozens — perhaps hundreds — of people who stopped by, to take photographs or video footage of the Old Adobe fire late Saturday morning, as the remains of the third largest building in Pagosa's historic downtown smoldered and belched gray and brown smoke — in spite of the watchful fire hoses manned by the Pagosa Fire Protection District.
Reportedly, no one was injured by the fire. It appears that the Bear Creek Saloon and all of the numerous offices in the two-story building were completely destroyed.
The fire had erupted in the kitchen of the first-floor Bear Creek Saloon at about 1am on Saturday morning, October 22, while the Brooks-I Band was performing their final set of homegrown rock n' roll. Within minutes, the fire had begun to spread into the second floor, and — from what I can tell by the video clips posted on Facebook — the entire building was engulfed by 3am, with flames leaping 30 or 40 feet into the dark October sky.
"We got the call at 1:02am — a report of a kitchen fire," explained Fire Chief Randy Larson, as we stood on the east side of what was now a burned-out shell. "Karn Macht was our command officer; he was first on the scene. Engine One rolled out of the station with one person aboard.
"They tried to make an interior attack in the kitchen. The second crew showed up and went to the second floor. They were in maybe five to seven minutes, and we encountered flashover conditions. So we pulled them out."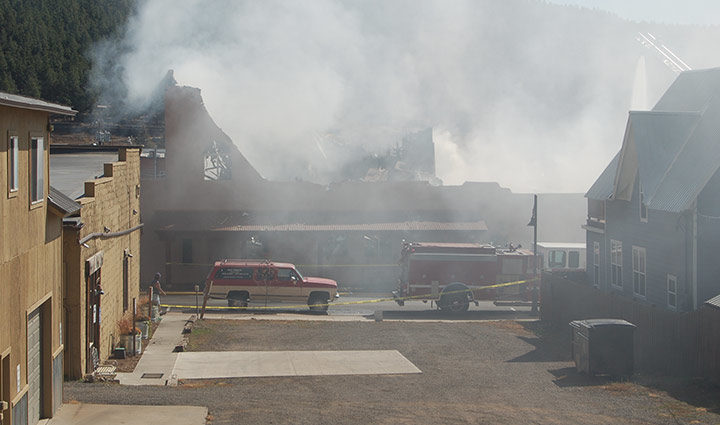 A "flashover" is the near-simultaneous ignition of the exposed combustible material in an enclosed area. When wood and other organic materials are heated, they undergo thermal decomposition and release flammable gases. Flashover occurs when the majority of the exposed surfaces in a space are heated to their "auto-ignition temperature" — typically about 1000°F for ordinary combustibles.
"It got very, very hot — very, very fast," the Chief continued. "Smoke came blowing out the door; the heat rose very quickly. We determined that conditions were such that everything was going to ignite at once.
"And you don't want to be caught in that situation.
"I had taken commend by then — and as soon as I saw that, I pulled the crews out, and we started putting up the big guns. We surrounded it, and put up as much water as we could on it."
Below, you can view a video produced by Dianne and Michael Killen for PagosaPulse.com, which includes an interview with Fire Chief Randy Larson.
According to the County Assessors map, it appears that the Adobe Condominiums consisted of about 18 properties, including the Adobe Condominium Association, which I believe owned the common areas within the building — hallways, stairways, etc.
Fire trucks from Ignacio and Bayfield arrived to help irrigate the blaze, but even with three ladder trucks applying water, not much could be done to combat the inferno once the entire structure became engulfed in flames.
"We were able to contain everything within this structure. We had aerial apparatus up pretty quickly; we were keeping an eye on flying brands, and we've had no wind, so that helped us out a little bit. There maybe be some smoke smell inside some of the nearby buildings, but there's not much we can do about that in these types of situations.
Meanwhile, the massive application of water had a significant impact on the surrounding homes. Nearby residents awoke to find out they had no water pressure.
Chief Larson:
"Actually, a couple of hours ago, PAWSD (Pagosa Area Water and Sanitation) came to us and said, 'We're out of water. We're going to start collapsing water mains if we keep flowing this much. Is there any way you guys can start shutting down?'
"At that point, we had it contained in the building, so we shut down the Los Pinos [Fire Protection District] ladder, and we shut down our ladder for a little while to let them catch back up. So now, what we're doing is — when some hotspots pop up, we fire up the ladder and run it three or four minutes, and shut it back down. And hopefully, the town's water supply will catch up and all these folks, who've been without any water pressure this morning, will start getting some.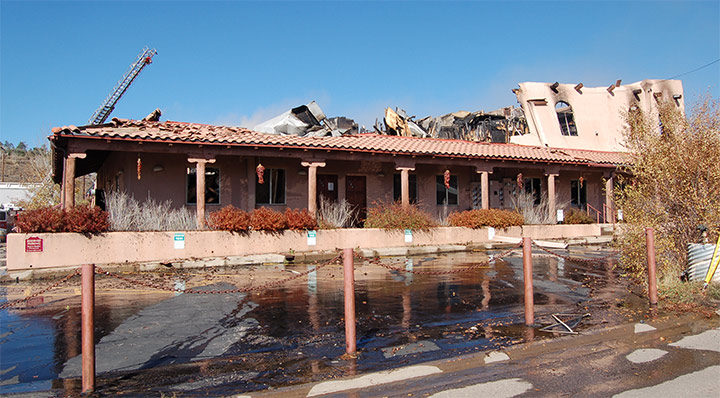 "PAWSD did a good job; they came out and boosted pressure for us while it was really rocking. They boosted our pressure so we had plenty of water to fight it. But it did cause some pressure issues in the town, and we're doing everything we can to help them out with that, by not flowing unless it's necessary."
"What we're doing right now.. we've got everything contained. But we've got hotspots that have been buried underneath the collapse, so we can't send anybody inside. So we're just going to keep a watch crew here through tonight and tomorrow, and then we'll re-evaluate it tomorrow evening. If we need to, we'll keep a crew through tomorrow night.
"We've got an investigative team coming in on Monday, but at this point in time, we're not calling it 'suspicious.' It appears to be an accident."
At this point in our conversation, the Chief noted that some of the crew had been fighting the fire for nearly 12 hours. "We've got to plan now, for some people to go home and take some naps, so they can come back later." The Pagosa Fire Protection District is mainly a volunteer organization, which is probably a blessing in situations like this — where, undoubtedly, overtime pay could have put a significant dent in the budget.
Judging by the conversations I struck up with some of the spectators on Lewis Street, public opinion about the Old Adobe's prospects was divided. Some people predicted a quick re-construction of the ruined building. Others speculated that the site would likely remain an empty lot, long into the foreseeable future.
Late the following afternoon, on Sunday, a small crew of firefighters was preparing to spend the night monitoring the burnt building — on the reasonable assumption that fire still smoldered deep within the enormous pile of rubble within what was once the Old Adobe.
I could see no sign of smoke, as I toured the site; not a wisp. But extreme care is warranted in these situations; the ladder truck with its mounted nozzle was parked beside the building, just in case.