VIDEO: Facts and Fantasies About the Bridge to Nowhere, Part Two
Pagosa Springs Mayor Don Volger welcomed us — a packed audience — at the start of the Thursday, March 17 Town Council work session. The meeting was to provide, the Mayor explained, a chance to hear from the Town staff and Council, and from local businessman Matt Mees, representing the Springs Partners LLC. The Mayor also told us the Council wished to hear our opinions — about the proposed South 5th Street Bridge and some additional street improvements that would enhance 27 acres of vacant land owned by the Springs Partners — at taxpayer expense.
Mayor Volger has been leading the Town Council for the past two years, and has shown himself to be adept at facilitating lengthy discussions — among the Council members, and between the Council and the taxpaying public. In that sense, Mayor Volger is part of a new breed of local elected leaders who, as chairs of their respective boards, have been welcoming public commentary and input in a way that was unheard of ten years ago. I am thinking here of Archuleta Board of County Commissioners chair Michael Whiting, and Pagosa Area Water and Sanitation District board chair Mike Church.
Last Thursday night, Mayor Volger allowed the presenters and the audience every possible opportunity to get their arguments across — save for a couple of tense moments when he felt obligated to cut off members of the public, for talking out of turn.
As a result of this political generosity, the meeting lasted for a full three hours. We heard a few interesting facts, and a few interesting fantasies.
I had positioned myself at the south end of the South Conference Room at the Ross Aragon Community Center with my video camera, planning to document this initial public conversation about possibly the most expensive project to be considered by the Town government in recent years. (The controversial Town-PAWSD sewer pipeline might end up being more expensive — maybe $8.5 million — but we were told at the beginning that it would be constructed for less than $5 million.)
I had brought only two tapes for my camera, so I didn't capture the entire meeting. In particular, I didn't capture the final hour, which consisted of questions about, and objections to, the proposal from most of the packed audience — and glowing praise for the project from a small number of realtors and from friends of Mr. Mees.
Deciding which clips to share from two hours of taped discussion is not always an easy chore. I normally try and upload Daily Post videos no longer than about three minutes in duration — knowing that our readers are generally busy people, and even three minutes of amateur video is stretching their patience.
But the March 17 "Bridge to Nowhere" meeting was much too complex to fit into three minutes. Today's video excerpt is about 6 minutes long. And I will have more video to share tomorrow.
Mayor Volger began by explaining, as best he could, why the Town Council had chosen to discuss the 5th Street Bridge proposal in closed-door meetings for the past six months, releasing no information to the public — except in compliance with Colorado Open Records Act (CORA) requests filed by the Pagosa Springs SUN and the Daily Post.
Then we heard Town Manager Greg Schulte give a short background of the 2012 Vested Rights Agreement approved by a previous Town Council — and whether that agreement obligated the Town to build a bridge and roadway. (It doesn't. A Town Council cannot legally obligate a future Council to spend money, so the current Council can reject the bridge proposal if they so desire.)
Mr. Schulte also informed us that the current Council is seeking guarantees from the developers — confirming, somehow, that a decision by the Council to build the 5th Street Bridge would be likely only if the developers gave some type of guarantee that the vacant meadow would indeed be developed in a timely manner. A guarantee, in other words, that the Springs Partners wouldn't simply flip the property once the bridge were completed.
Mr. Schulte stated:
"There's no deal [yet.] We don't have a deal. And we're not actually close to one, I don't think."
Then Springs Partner representative Matt Mees gave even more history: the purchase of the 27-acre meadow by Mr. Mees and his business partner Bill Dawson; the unplanned sale of the Springs Resort and the meadow to the Whittington family; the Whittington's decision to hand back the meadow property in 2011; solicitation by the Town government for an easement to build a $7 million bridge at South 5th Street.
And now, we are told, a development group chomping at the bit to locate a new hotel (100 rooms? Plus more hot springs soaking pools?) at the north end of the vacant parcel. But the hotel developers have made it very clear, Mr. Mees warned us: they will not come to Pagosa unless the 5th Street Bridge is built.
As he spoke, Matt Mees moved his hand across a brand new drawing of a possible development, created by architect Brad Ash, of Reynolds Ash & Associates. The drawing showed quite a few alterations from the sketch plan that was approved by a different Town Council back in 2012.
The drawing had been distributed to the audience and to the Town Council. It looked like this.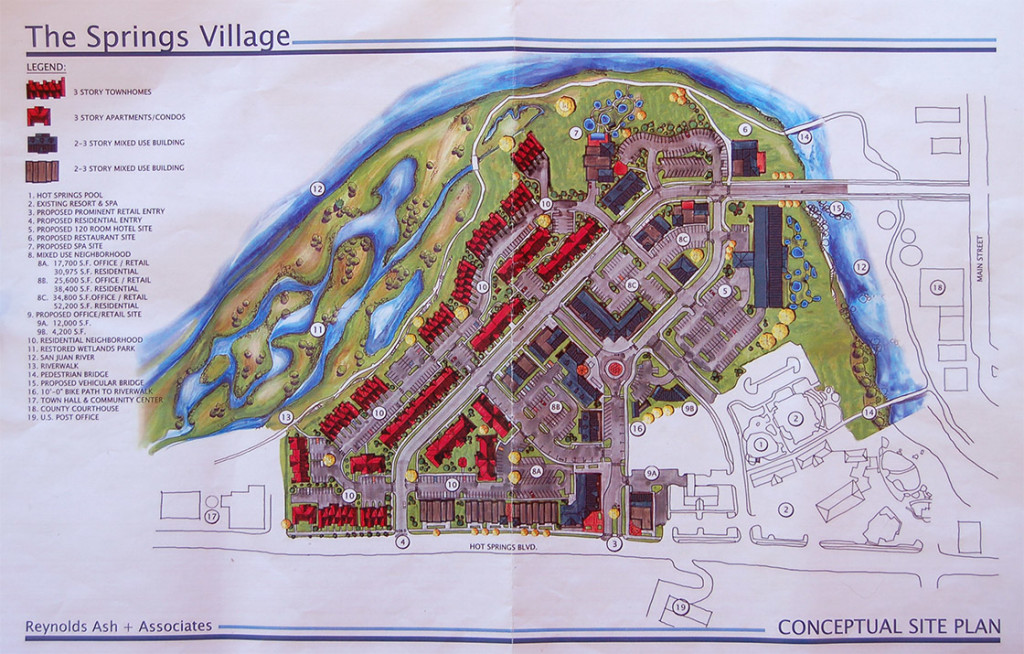 The buildings with blue roofs represent commercial buildings, and the red roofs represent residential properties. Although Mr. Mees had talked a good deal about creating a pedestrian-friendly downtown, Brad Ash's conceptual drawing appears to be about 80 percent asphalt roads and parking lots.
By all accounts, certain Colorado real estate markets are some of the hottest in the country. Zillow ranked Denver the nation's number one housing market; Forbes Magazine ranked Colorado Springs as the nation's sixth hottest real estate market.  But things aren't looking quite so hot in Pagosa Springs. From a March 2016 Daily Post article by Pagosa realtor Lee Riley:
Now for what's happening in the local real estate market. The elephant in the room is the lack of inventory, especially in the lower price ranges. Residential inventory is down 30%. Condo and townhome inventory is down 23%. Among homes priced below $300,000, we've got just 51% of the inventory available last year at this time.

The mid-price inventory from $300,000 to $500,000 is only a little higher… still just 62% of what was available last year at this time.
At an economic forum hosted by the Chamber of Commerce and the Community Development Corporation earlier this month, Pagosa realtor Mike Heraty reminded us that every local real estate market is exactly that: local, with its own local dynamics. Indeed, the Archuleta County real estate market had begun to cool off in 2006, two years before the global real estate meltdown.
It would appear that homeowners are hesitant about selling property here in Archuleta County, so far this year. Can we predict anything, based on a very few facts, about the fantasy of a new 27-acre development?